Spring Has Sprung!!!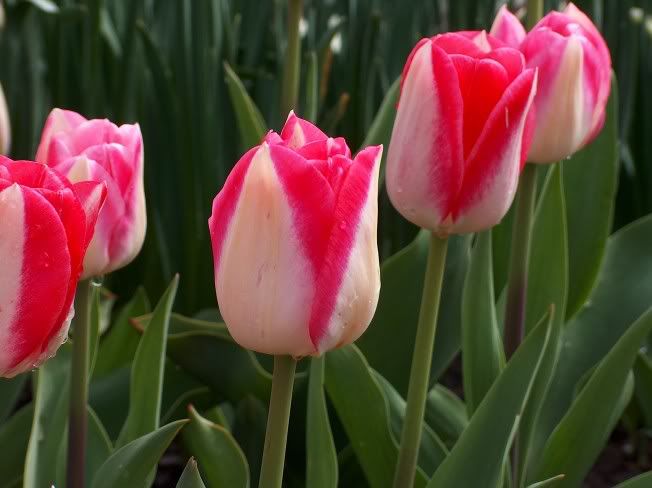 After a long winter tulips (and daffodils) have to be one of the most wonderful sights to see. I know that Spring is finally here- the days are getting longer and a bit warmer. Hurray!! I have a hard time with winter due to the fact that I really love (and am quite used to) warm weather. (Honestly, I rather be hot than cold.-- Hey I am from Hawaii, remember?)
I have been MIA due to my parents coming up to visit and of course work and school. I have been working a couple of knitting projects though. I finished the Baby Bolero from One Skein and a matching hat to go with it. I have also been working on my Picvoli Tee- I have only about 2 more inches to go. I must say it is going quite well-- when I tried it on, it fit like a dream.
I also recieved the 2/4 Highland Wool from WEBS. I haven't decided whether I like it or not. I love the color, is a crisp Raspberry color. However, it is not a soft as I thought it was going to be. There must be some mohair in it due to the way it bloomed after I skeined and washed the yarn. Washing -- that was a real experience! I must have washed it with Euclean 4 times...it still had a oily feel (honestly, not that bad) and smell (bad!). I finally decided to try some Ivory flakes that I keep around for "good" handwashing. I really helped to get the oily smell out of the yarn. It also made the yarn run quite a bit. My original plan for the yarn was to make the sunrise circle jacket...I swatched for it and got gauge spot on (that never happens). Even with my reservations, I think I will still use it for the sunrise circle jacket. After all, frogging, is the worst thing that would happen...