Wyvern Socks Complete!!!!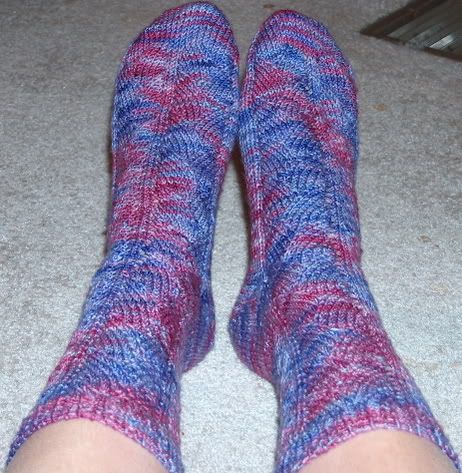 Pattern:
Wyvern Socks by Marnie
MacLean

Yarn:
Koigu painter's palette (I don't have the skein information anymore, but it is a mixture of purples and fushias.
Needles Used:
US 2 addis turbos- magic loop technique
Techniques Learned:
1. Starting from the toe up. 2. Figure 8 cast on 3. Hourglass Heel 4. Invisiable bind off
Changes made from Orginal Pattern:
1. Using a figure 8 cast on instead of a provisional cast on.
2. No ribbing on foot of sock
3. For the leg I decided to do the pattern completely around the leg.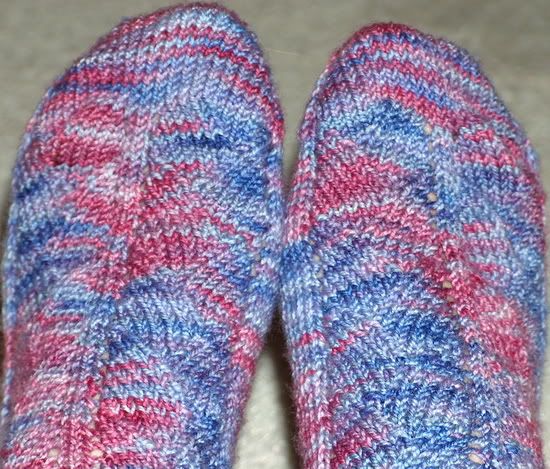 Comments:
Overall I really liked this pattern. The charted design was easy to follow and I never got bored with the pattern. This is my first pair of toe up socks, and I must say, I really like this technique. I was able to "try on" the sock throughout, and I could finish when I got bored with it (which is what happened with my first sock...I just wanted to move on to the second one). The pattern is deceptively simple, however, you still need to pay attention to it. I learned this the hard way after deciding that since I memorized the pattern, I could now talk on the phone and watch Grey's Anatomy while working on it. A hard lesson was learned when I was almost about to turn the heel and then realized my mistake. (So I really knitted about 2.5 socks with all the ripping out that was going on). Overall, this was a very enjoyable and well written pattern. I will probably make another pair sometime in the future.