A Finished Object, A New Technique, and A New Friend
Sorry everyone, I know that I have been really absent lately. I have always had a really hard time journaling consistantly. Why should this be any different? (Note to self: try to blog events in a more timely manner)
First of all: A finished object!!!!
Pattern:
Embosed Leaves from Winter IK 2005
Yarn:
Koigu (solid color- sorry don't remember the name)
Technique Used:
This called for using DPN, however, I needed to go down a needle size to a US1 to get gauge and I only had a 40" circ, so I decided to use the magic loop technique intead. It worked really well, the only part that was kind of tricky was making the gussets using this method.
Overall Impression:
Great pattern, it kept my interest going (I would have been done sooner, but school and work was getting in the way). I have received numerous compliments on these socks.
And now for a new techni
que:
Entraloc!!!!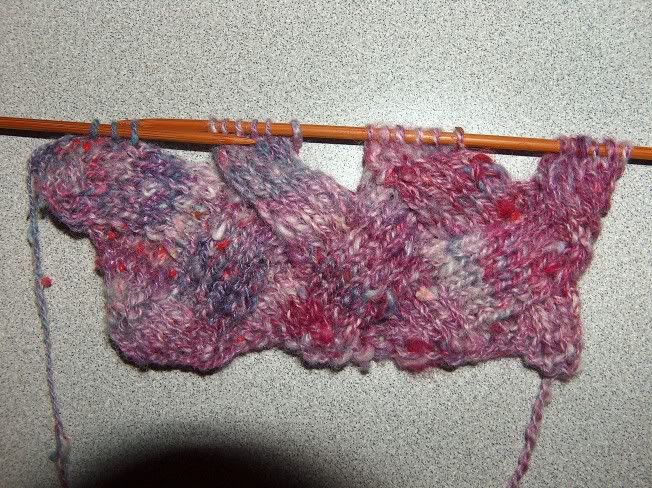 I was inspired by all the beautiful Lady Elenor shawls that have been popping up in various blogs. The yarn used is some of my very own handspun. The fiber is from Crosspatch Creations from the
Bellwether.
The colorway is stone soup in pinks and lilacs. I only have 4 oz of this fiber (not enough for a real Lady Elenor. So, my plan is use the fiber to make a scarf instead.
The fiber was spun on my 0.9 oz Golding Tsunami. It is a two ply yarn, and the weight is somewhere between DK and fingering weight.
And lastly, a new friend...


Yup, that is a raccoon...on our back porch. He was really interested about what was going on in the house, while the two kitties wondered who and what the heck he was. (Lily actually tried to attack him through the glass) He stayed on the porch for quite a bit. He left when he figured out that there was no way we were going to open the door (or maybe he just got scared of Lily, or perhaps he just had better raccoon type of things to do).
We named him (we are assuming it is a boy raccoon) Bandito. Between him and the deer we have had in the yard a couple of days ago, we are making lots of friends with the local wild life.