Additions to the stash and my current project...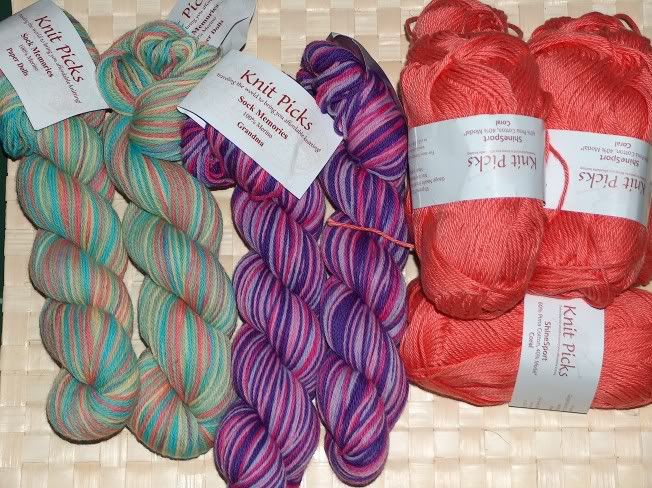 Some lovely new additions of yarn to the stash. There was a posting on
Knitty
about
Knit Picks
having a sock yarn sale. It seems that Knit Picks is phasing out some of their sock yarn lines and just incorporating them into one sock line (I guess it is mainly for for their different "memories" lines) . So of course, not wanting to miss out on a great deal, I decided to order a couple of the colorways that I like and would be phased out. I chose the colorways Paper Dolls and Grandma. While I was at it I decided to order 5 skeins of shine as well in coral. The Shine will be used to make a
Picovoli
tee.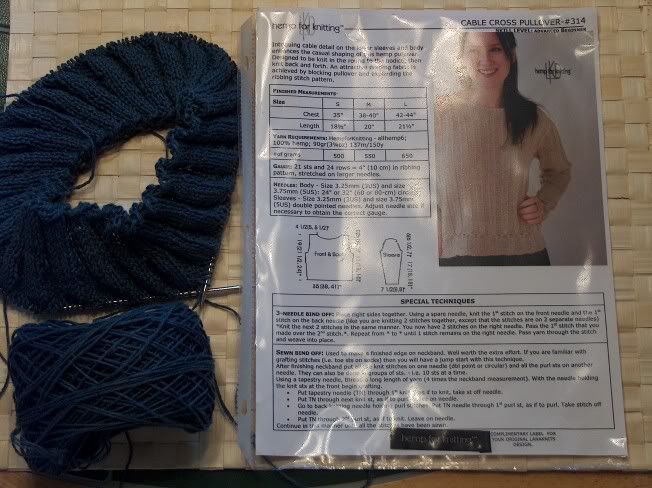 My current project is the
Cross Cable Pullover
which I purchased from Hemp For Knitting. I am using the color Deep Sea. It is a beautiful rich blue. It is very interesting using this yarn. the fiber is very twine-like. So different from anything that I have ever worked with before. Supposedly the fabric made from hemp will soften with use and have a very nice fluid drape. It is also supposed to be very strong since hemp is the longest fiber (I hope I have that right). This is also the first time I will be attempting a sweater with any needle smaller than a size 9. So far I am enjoying myself...hopefully that will continue to be the case.
Lastly, I am working some Blue-faced Leichester on my spinning wheel. I currently have one bobbin filled and am almost done filling the second bobbin. My plan is to ply the two bobbins together. I think the resulting yarn will be somewhere between DK and worsted weight. I am also estimating I will have approximately 400-500 yards when done. My plan is to make a very simple openwork shawl I can use to patter around the house in. I tend to get very cold in the winter (and Das Hubby likes to keep the temp in the house down around 65-68 degrees during the winter to keep heating costs down). A warm shawl/wrap is essential to keep me toasty and warm. Plus, it will be my first big project done with my very own handspun!