The homemade birthday goodie-bag is finished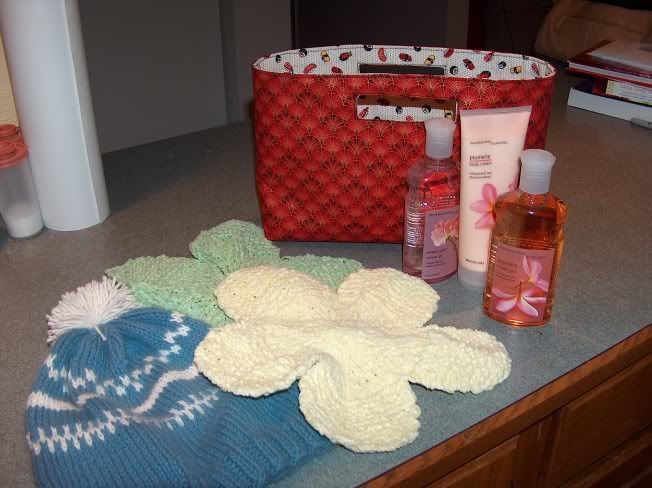 Well, actually it was finished a couple of days ago to in order to get it out to the mail in time.
Everything (including the bag, obviously not the soap and lotion) was handmade by me. And who is the recieptient of this neat stash...my wonderful Grandma!!!
Included is a ski cap (which was the one thing that my Grandma asked for...she thinks that they are cute), two cotton chenille wash cloths from Weekend Knitting, some Bath & Body works lotions, and a sewn tote. I must say, that I think the tote came out rather well. I love the way the red fan fabric really picks up the sushi print fabric for the inside of the tote. The best part? This tote is reversible. So if my Grandma wants to show the world the sushi side she can. :) (The tote is an Amy Butler pattern by the way). As of today I haven't heard if the box arrived.
My other picture for the day is of my first project made with my own handspun.
No, this handspun was not made with my spinning wheel. It was with my drop spindle before I recieved the spinning wheel (although I do have a skein of my first wheel yarn. Note to self: take picture of yarn). This is coopsworth roving that I dyed myself using kool-aid (pink lemonaide and lemon-line, I believe). I spun and plied it randomly. I have to say I really like the stripes that the knitted fabric formed. I didn't have much of it (I think maybe only about 50 yards or so). So, I decided to use Lynne Vogel's idea and make a treasure bag out of it. (I like her decription of it: a cuff with a toe). The yarn was pretty close to DK weight. I used size 6 DP in order to make a rather firm fabric. The big debate is what to do with it. Part of me wants to keep it, on the other hand I have a God-daughter who also would really like it, and the colors really match a 7 year old girl. Decisions, decisions.
Hubby and I went to Sequim, WA for our Anniversary. It was blissful to have a couple of days of relaxation. Of course, in true style of a yarn addict I had to stop at the local yarn store: A Mingled Yarn. Wonderful selection of yarns (better than some Seattle shops) and the ladies were so nice. My finds were modest (hey I am on a yarn diet), however, I got some sock yarn and a beautiful alpaca & silk lace weight in a very yummy color.
I am itching to cast on, but I want to finish some of my current projects first.
Current projects on the needles:
1. Embossed Leaves Socks from IK Winter 2006
2. Market Tote from Weekend Knitting
3. Not Just Another Sweatshirt from Yarn Girls
Next planned projects:
1. Potholders from Domino knitting in order to learn the Modular Knitting technique.
2. Jaywalker Socks
3. Ella shawl
Current Spinning Projects
1. Drop Spindle: Sock yarn for me from a Merino Tencel blend (very, very silky)
2. Spinning wheel: Blue-Faced Leichester in about a DK blend for I don't know what yet (hey, I just really like that fiber...Is that so bad? ;)